Dr. Angie Eye Center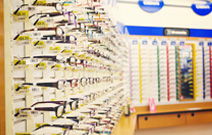 Need new contacts or eye glasses? The Walmart Vision Center next door can help with all your eye care needs. They have designer frames, sunglasses, high index and polycarbonate lenses, sports eyewear, safety eyewear, transitional lenses, and a wide variety of no-line bifocals or progressive lenses. They also have several contact brands with a large range in power kept in stock.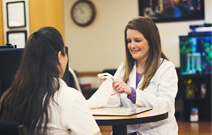 Founded in 2008, locally owned and operated independent optometrist office, Dr. Angie Eye Center, is located next to the Walmart Vision Center. We have a retinal camera that takes pictures of your eyes. It's included in the price of the exam and most patients do not need a dilated exam because of the camera. We know how important your vision is to you. Learn more about our office staff.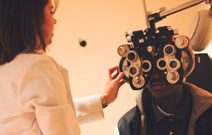 Dr. Angie offers a range of eye care services to preserve your eye health and improve your vision. Including comprehensive glasses exams, diabetic exams, contact exams, treatment of eye infections and foreign body removal. Dr. Angie also does lasik and cataract consultations. Call (812) 288-8458 to schedule an eye exam at our main office in Clarksville, Indiana.
Dr. Angie Eye Center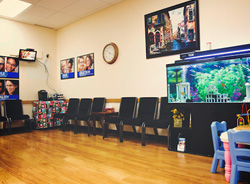 Dr. Angie Buchanan is a native to Southern Indiana, born and raised in Salem, Indiana. She received her doctorate in Optometry in 2008 from Indiana University. Dr Angie completed her internship rotations in ocular disease, pediatrics, and specialty contacts. She has participated in international mission travel to under developed areas to provide vision care. She is married to her middle school sweetheart and they have one daughter, Addison. She loves to watch movies, read romance novels, and travel with her family. She is a member of Northside Christian Church in New Albany Indiana.
Located at Walmart Vision Center: 1351 Veterans Parkway Clarksville, Indiana. We have a lovely experienced staff. Meet the crew!
Reviews
---
"I love Dr. Angie and her staff. Even though I've had to drive 30-45 minutes since I've moved, I won't go anywhere else. Extremely knowledgeable, considerate, and helpful, every last one of them."
- Shannon McCallister
---
"Dr. Angie and her staff made our appointment such a wonderful experience. My 5 year old couldn't wait to go back, I think that speaks volumes for the level of service and expertise you'll get! So glad we made the decision for Dr. Angie to be our doc!"
- Amber Reardon
---